During the first morning of work at the StartUp project meeting, as Red Incluye – Metropolitan Region, we made a presentation of our organization and had a very interesting dialogue about our experience in labor inclusion.
Afterwards our afternoon was very interesting. Of course we took the long-awaited group photo with the 4 delegations from the 3 visiting countries after all these months of waiting. We continue our "capacity building meeting" presenting the excellent entrepreneurship initiative of Nexo Inclusion with the participation of Paulina Molina, director of this organization. International visitors were surprised by the high standard and quality of entrepreneurship in the development of social impact planners, which they can learn more about here.
We greatly appreciate Javiera Castillo from Colegio del Desarrollo de La Reina for providing her support in translating the event during the morning.
On our 2nd day of meeting for the StartUP project with visitors from Malaysia, Greece and the United Kingdom, we had the opportunity to visit a great example of entrepreneurship, both for its history and for its ability to reinvent itself and sustain itself in the face of adversity. It is the protected company Coanil Servicios, who, thanks to the reception of its director Claudia Arias and her team made up of professionals and collaborators of this initiative, showed us the dependencies and processes they carry out. They currently work in the areas of machining and of course their star product ALFAJORES.
During the afternoon we began the intensive closing work of the project, discussing two central tasks, the first consisted of recording a series of interviews that comment on the main results of this project. Subsequently, we began to make decisions in relation to the preparation of the final report, which includes 4 content pillars: its sustainability over time, its impact, its dissemination to other actors, and a group self-assessment of the process that each team has carried out in these past months.
We thank Javiera Castillo from the Escuela Del Desarrollo de La Reina for collaborating with us with the coffee break and the delicacies prepared by their students.
The next morning, on our 3rd day of work, we started early with an entertaining dynamic and then continued with the systematization of the tasks committed for these days. Later we recorded interesting question and answer interviews about this project and how it has impacted Red Incluye and the other collaborators. On this occasion we thank the Center for Rehabilitation and Socio-labor Reinsertion CULTIVA for their generous and delicious donation for our coffee break.
During the afternoon we visited the rehabilitation service venture of the Dr. José Horwitz Barak Psychiatric Institute. It was very interesting to know its history, and how it affects the people who participate. They provide a cafeteria service inside the institute and have their doors open to the community. We take with us a hopeful vision, moving testimonies of the people who work who tell of the value they give to their work. They also help us to visualize how much we still need to make the search for competitive jobs more accessible, from being aware of the needs of well-understood and designed support, as well as from our own attitudes… It is possible to include with dignity!
On Thursday morning we visited the Alsino Day Hospital and its Entrepreneurship Fair. More than 10 entrepreneurs with disabilities shared their visions with the group of foreigners from the StartUP project. On this occasion, its director, Cristian Silva, invited us to look and act with an inclusive attitude to continue empowering these initiatives. In the afternoon we make a visit to our cultural heritage.
On the last day of this magnificent week, our foreign guests got to know the "Siembra Inclusion" Cooperative in the facilities of La Fábrica at Universidad Mayor. We enjoyed the exhibition presented by the Siembra Inclusion Cooperative, an initiative led by PwD and their families in the Lo Barnechea commune who are supported by the community Labor Inclusion program team. Later we had the presence of Claudia Verdugo from Central Senadis who addressed a few words to our foreign visitors to congratulate the culmination of this great week of work.
Undoubtedly, none of the Red Includes organizations nor their technical references could have guessed everything that having accepted and participated in this experience has meant to date… This voyage started in December 2018 when this invitation was received from the European Union, and after overcoming challenges of internal organization, language, distances, with a social outbreak in our country and a pandemic in between, on Friday, April 22, the 3rd milestone of this project was closed. There had been months of intense work, which involved preparing an interesting agenda that showed Good Entrepreneurship Practices by and for PwD in the metropolitan region. The foreign organizations that visited and participated in the entrepreneurial experiences exhibited by Red Includes left with their expectations completely met and exceeded. As a Technical Table of Red Includes we are proud of the networking that was displayed throughout the week. The project is now entering a final stage of systematization and it is expected that more and more organizations and PwD will join the entrepreneurship course that was developed in conjunction with international institutions.
«In this project we find soul mates, we are looking for the same thing in different parts of the world, opportunities for participation, inclusion and empowerment of people with disabilities».
Orquídea Miranda Chairman of the Board of Directors Red Incluye 2022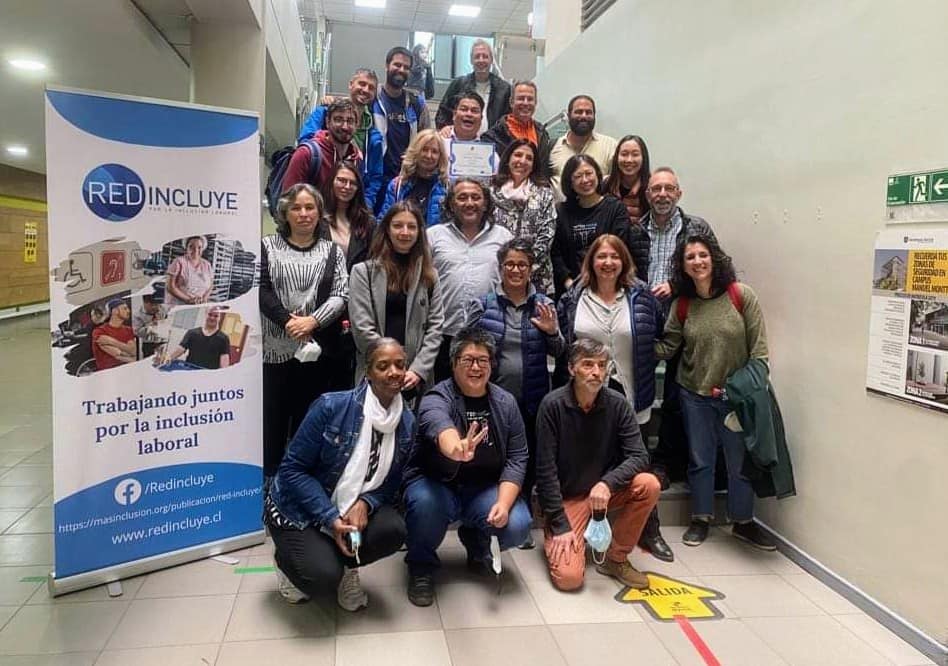 Durante la primera mañana de trabajo en el encuentro del proyecto StartUp, como Red Incluye – Región Metropolitana realizamos una presentación de nuestra organización y sostuvimos un diálogo muy interesante sobre nuestra experiencia en inclusión laboral.
Posteriormente nuestra tarde estuvo muy interesante. Por supuesto nos sacamos la ansiada foto grupal con las 4 delegaciones de los 3 países visitantes después de todos estos meses de espera. Continuamos nuestra "capacity building meeting" presentando la excelente iniciativa de emprendimiento de Nexo Inclusión con la participación de Paulina Molina, directora de esta organización. Las visitas internacionales se sorprendieron con el alto standard y calidad del emprendimiento en la elaboración de planners de impacto social, del cual pueden conocer más aquí.
Agradecemos enormemente a Javiera Castillo del Colegio del Desarrollo de La Reina por brindar su apoyo en la traducción del evento durante la mañana.
En nuestro 2do día de reunión por el proyecto StartUP con las visitas de Malasia, Grecia y Reino Unido tuvimos la oportunidad de visitar un gran ejemplo de emprendimiento, tanto por su historia como por su capacidad de reinventarse y sostenerse ante la adversidad. Se trata de la empresa protegida Coanil Servicios, quienes gracias al recibimiento de su directora Claudia Arias y su equipo conformado por profesionales y colaboradores de esta iniciativa, nos mostraron las dependencias y procesos que llevan a cabo. Actualmente se desempeñan en las áreas de mecanizado y por supuesto su producto estrella ALFAJORES.
https://coanilservicios.cl/
https://www.instagram.com/taller_coanil_servicios/
Durante la tarde comenzamos el trabajo intensivo de cierre del proyecto, discutiendo dos tareas centrales, la primera consistió en grabar una serie de entrevistas que comenten sobre los principales resultados de este proyecto. Posteriormente comenzamos a tomar decisiones en relación a la elaboración del informe final el cual contempla 4 pilares de contenidos: su sustentabilidad en el tiempo, su impacto, su socialización a otros actores, y una auto-evaluación grupal del proceso que cada equipo ha llevado a cabo en estos meses.
Agradecemos a Javiera Castillo de la Escuela Del Desarrollo de La Reina por colaborarnos con el coffee break y las delicias elaboradas por los estudiantes del nivel laboral.
A la mañana siguiente, en nuestro 3er día de trabajo, empezamos temprano con una dinámica entretenida para luego continuar con la sistematización de las tareas comprometidas para estos días. Posteriormente grabamos interesantes entrevistas de preguntas y respuestas sobre este proyecto y cómo ha impactado a Red Incluye – Región Metropolitana y a los otros colaboradores. En esta oportunidad agradecemos al Centro de Rehabilitación y Reinserción Sociolaboral CULTIVA por su generosa y deliciosa donación para nuestro coffee break.
Durante la tarde visitamos el emprendimiento del servicio de rehabilitación del Instituto Psiquiátrico Dr. José Horwitz Barak. Fue muy interesante conocer su historia, y cómo incide en las personas que participan. Ellos prestan servicio de cafetería al interior del instituto y tienen las puertas abiertas a la comunidad. Nos llevamos una esperanzadora visión, testimonios conmovedores de las personas que trabajan que cuentan del valor que le dan a su trabajo. También nos ayudan a visualizar cuánto nos falta por hacer la búsqueda de empleos competitivos más accesibles, desde ser conscientes de las necesidades de apoyo bien entendidos y diseñados, como desde nuestras propias actitudes… ¡Es posible incluir con dignidad!
El día jueves por la mañana visitamos el Hospital de Día Alsino y su Feria de Emprendimiento. Más de 10 emprendedores con discapacidad compartieron sus visiones con el grupo de extranjeros del proyecto StartUP. En esta oportunidad su director Cristian Silva, nos invitó a mirar y actuar bajo una actitud inclusiva para seguir empoderando estas iniciativas. Por la tarde realizamos una visita a nuestro patrimonio cultural.
En el último día de esta magnífica semana nuestros invitados extranjeros conocieron la Cooperativa "Siembra Inclusión" en las dependencias de La Fábrica en Universidad Mayor. Disfrutamos de la exposición presentada por la Cooperativa Siembra Inclusión, iniciativa liderada por PcD y sus familias en la comuna de Lo Barnechea quienes son apoyados por el equipo del programa de Inclusión Laboral comunal. Posteriormente contamos con la presencia de Claudia Verdugo de Senadis central quien dirigió unas palabras a nuestras visitas extranjeras para felicitar la culminación de esta gran semana de trabajo.
Sin duda, ninguna de las organizaciones de Red Incluye ni sus referentes técnicos podrían haber adivinado todo lo que hasta la fecha ha significado haber aceptado y participado de esta experiencia… Este viaje partió en diciembre de 2018 cuando fue recibida esta invitación de la Unión Europea, y tras superar desafíos de organización interna, de idioma, de distancias, con estallido social y pandemia entre medio, el viernes 22 de abril se logra realizar el cierre del 3er hito de este proyecto. Han sido meses de intenso trabajo, implicó preparar una agenda interesante que mostrase Buenas Prácticas de emprendimiento de y para PcD en la región metropolitana. Las organizaciones extranjeras que visitaron y participaron de las experiencias de emprendimiento expuestas por Red Incluye se retiraron con sus expectativas completamente alcanzadas y superadas. Como mesa Técnica de Red Incluye estamos orgullosos del trabajo en red que se vio desplegado durante toda la semana. El proyecto ahora entra en una etapa final de sistematización y se espera que más y más organizaciones y PcD se sumen al curso de emprendimiento que fue elaborado en conjunto con las instituciones internacionales.

«En este proyecto encontramos almas gemelas, buscamos lo mismo en diferentes partes del mundo, oportunidades de participación, inclusión y empoderamiento de las personas con discapacidad.»
Orquídea Miranda Presidente Directorio Red Incluye 2022