The experience of Coanil Servicios de Fundación Coanil
(scroll down for the Spanish version)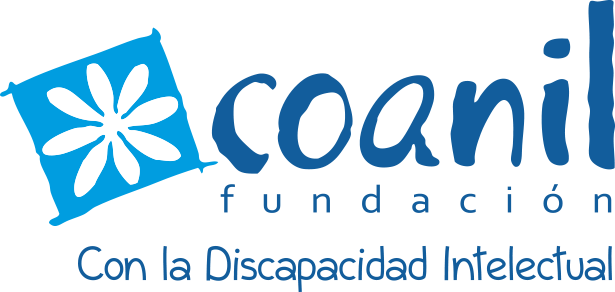 In 2003 the idea to create a supported job workshop was born as a main project of Fundación Coanil. Its purpose was to respond to the occupational needs of many young people with intellectual disabilities, which after the job training process delivered in special schools in the city of Santiago, Chile. For various reasons, these people were unable to access to competitive jobs, being left without a productive role, being segregated at home, some undergoing processes of cognitive decline and most with a negative perception of their quality of life. Today, that project has materialized in an entrepreneurial experience, which used resources from its community, plus the timely advice of expert organizations in the field, which led to the formation of a pioneering supported enterprise model of its kind.
In Chile, the unemployment rate of people with some kind of disability is 60.7% (ENDISC, 2015), therefore a program is necessary for this population violated in their civil rights, and should strengthen job skills and competencies, along with facilitating access to competitive and/or supported jobs in the face of different socio-cultural and architectural barriers.
In that scenario, Coanil Servicios was born as a unit, which is part of Fundación Coanil (a nonprofit nongovernmental organization with nationwide presence). This unit acts as a job workshop that seeks to follow the training process of intellectually disabled young people, between 26 and 40 years of age, after the completion of special education programs. It aims to promote autonomy and independence gradually and progressively so that its participants can access a competitive job or a supported one. The members of this initiative put their capacities at the service of the community in different areas, thereby improving their quality of life.
In 2003 the idea of the job workshop was born as a project of Fundación Coanil to be able to respond to the occupational needs of many young people with intellectual disabilities, who after the job training process, wich is given in "special education contexts" of Coanil or other institutions, for a variety of reasons they were unable to be inserted into a competitive job, leaving them without occupations at home, some undergoing processes of cognitive decline and the majority with a negative perception of their quality of life.
In 2004, the project presented to Fonadis (a government fund administration by that time) was won and began operating in March of that same year, with 15 adults with intellectual disabilities, 2 supervising workshop monitors and a coordinator. The objective was "occupation rehabilitation", which considered to be essential for these people to revert from sedentarism to a structured daily routine, participating in a group outside their homes and to improve their perception of quality of life. The activities carried out were the packaging of spices and herbs, the making of sandwiches and the provision of services to third parties in machining.
In 2005, a presidential grant was obtained, which allowed us to continue providing services to third parties in machining. Also, the preparation and sales of chocolate products begins, and we are joined by a sales manager to attract customers (other companies), enhance the mechanized workshop and help in job placement. In September of the same year we processed our taxpayer identity at our city hall located in Ñuñoa municipality, but without losing the economical support of Coanil.
In 2006 the sales of our chocolate products grew significantly through dispensing boxes, managing to distribute 11 of them throughout Santiago. We also began to publicize and spread our activity and mission through the written media. In 2007 the placement of dispensing boxes in companies and the sale of Chocolate products grew, but the provision of services (mechanized workshop and cleaning) declined. By 2008, we continued with the chocolate sweets production and sales through dispensing boxes in companies, and with the provision of mechanized and cleaning services.
From 2007 to 2012, support is received from the organization NESsT (Group for the Self-Support of Civil Sector Organizations), which provides annual financial support according to an Investment Plan and assistance for institutional strengthening in the following areas:
1/ Projections and Strategic Plan
2/ Strengthen the measurement of the impact on the mission and values
3/ Measurement of the return on investment, both in the financial and social fields.
In 2009, we moved to a larger building, changing us to a new city Hall located at Estación Central, which allowed for a greater number of beneficiaries and further diversification of work and extra-labor activities.
To accomplish this process, we work from a competency-based training approach, so that participants can participate in different jobs, accessing any type of work that is of interest to them.
The aforementioned, reflects at the country level the decrease in social spending (such as health, pensions, among others), poverty rates, social stigma thus increasing the workforce, improving participation and quality of life of people withf disability participating in our programs.
STRATEGIES
Our work strategy has two stages:
1/ Labor Program: It pursues a future labor insertion, developing habits and labor competencies through training by competences and the carrying out of various productive activities and provision of services. (Training process).
2/ Labor participation in companies: Participation through internships and / or employment in competitive jobs, as a result of the development of labor competencies.
Extra-labor programs: Various strategies of group or individual activities that seek to help beneficiaries overcome the challenges that keep them from achieving the desired independence, both in daily life activities and within the community. It also seeks to develop the roles valued by each person, through educational workshops and professional consultancies. (Labor Readiness, Affectivity and Sexuality, Community Management).
The process of labor inclusion is carried out from the supported employment model (EcA) providing the necessary supports and individualized monitoring that allows the person to perform satisfactorily on the job, ensuring their maintenance over time, thus achieving expected productive level.
After two years, it is estimated that the person can work independently at the workplace, graduating from the job training program at Coanil Servicios.
---
La experiencia de Coanil Servicios de Fundación Coanil
En el año 2003 nace la idea de crear un taller laboral protegido como un proyecto de Fundación Coanil para poder dar respuesta a las necesidades ocupacionales de muchos jóvenes con discapacidad intelectual, que tras el proceso de capacitación laboral entregado en las escuelas especiales de la Región Metropolitana, por diversos motivos, estas personas no lograban insertarse laboralmente en puestos de trabajo competitivo, quedando sin ocupación productiva, segregados en sus casas, algunos cursando procesos de deterioro cognitivo y la mayoría con una percepción negativa de su calidad de vida. Hoy en día, aquel proyecto se ha materializado en una experiencia emprendedora, que ocupó recursos de su comunidad, más la asesoría oportuna de organizaciones expertas en la materia, que llevaron a la formación de una empresa protegida pionera en su tipo.
En Chile la tasa de desempleabilidad de personas en situación de discapacidad es de un 60,7% (ENDISC, 2015), por ende es necesario un programa dirigido a esta población vulnerada en sus derechos civiles, debiendo fortalecer las habilidades y competencias laborales, junto con facilitar el acceso a empleos competitivos y/o protegidos ante las distintas barreras socioculturales y arquitectónicas.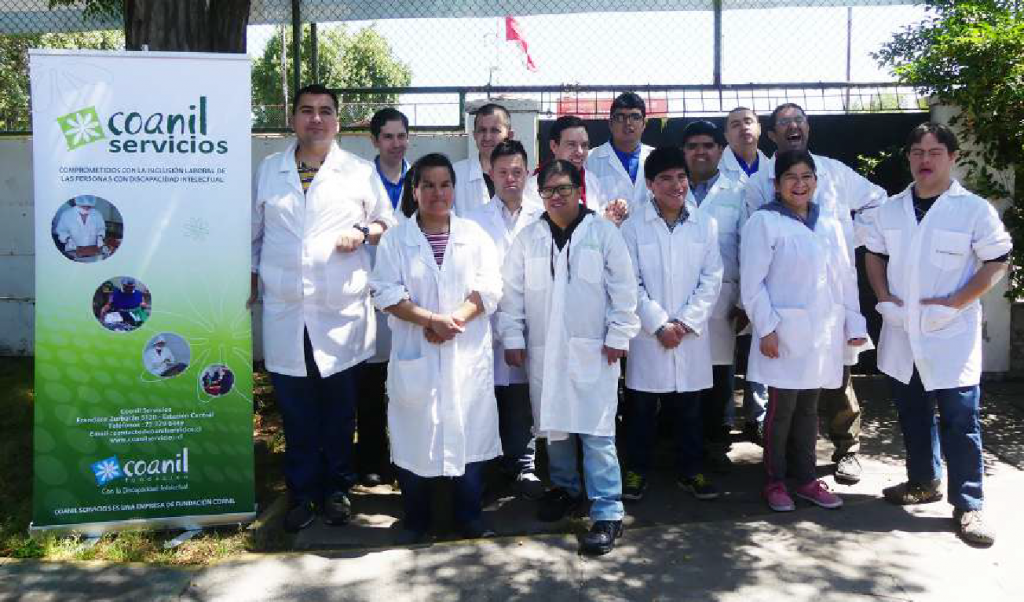 Es así que nace desde Fundación Coanil, la unidad Coanil Servicios, taller laboral que busca seguir el proceso de formación luego de terminada la educación especial para favorecer la autonomía e independencia de forma gradual y progresiva y que estas personas puedan acceder a un trabajo competitivo o protegido.Los participantes de esta iniciativa ponen sus capacidades al servicio de la comunidad en distintos rubros, mejorando con ello su calidad de vida.
En lo que respecta a nuestra historia podemos mencionar que en el año 2003 nace la idea del taller laboral como un proyecto de Fundación Coanil para poder dar respuesta a las necesidades ocupacionales de muchos jóvenes con discapacidad intelectual, que tras el proceso de capacitación laboral, dado en las escuelas especiales de Coanil u otras instituciones, por diversos motivos no lograban ser insertados en un puesto de trabajo competitivo quedando sin ocupación en sus casas, algunos cursando procesos de deterioro cognitivo y la mayoría con una percepción negativa de su calidad de vida.
El 2004 el proyecto presentado a Fonadis es adjudicado y comienza a funcionar en marzo de ese mismo año con 15 personas adultas con discapacidad intelectual, 2 monitores supervisores del taller y una coordinadora. El objetivo era "rehabilitación ocupacional", siendo primordial que estas personas volvieran a contar con una rutina diaria estructurada, con un grupo de pertenencia fuera del hogar y que mejore su percepción de calidad de vida. Las actividades desarrolladas eran la de envasado de especias y hierbas, elaboración de sándwiches y prestación de servicios a terceros en mecanizado.
En el 2005 se logra subvención presidencial lo que permite continuar con la prestación de servicios a terceros en mecanizado y comienza la elaboración y venta de productos de chocolatería. Se suma una "relacionadora de empresas", para la captación de empresas clientes, potenciar el taller de mecanizado y colaborar en la inserción laboral. En septiembre del mismo año tramitamos personalidad jurídica en la comuna de Ñuñoa, pero sin perder el apoyo de Coanil.
En el 2006 crecen significativamente las ventas de alfajores a través de cajas dispensadoras de alfajores logrando distribuir 11 cajas en todo Santiago y se empieza a publicitar y difundir nuestra actividad y misión por a través de medios escritos. En el 2007 crece la colocación de cajas dispensadoras en empresas y venta de productos de Chocolatería, pero decae la prestación de servicios (taller mecanizado y aseo). El 2008 se continua con el área de chocolatería y la venta de alfajores a través de cajas dispensadoras en empresas, y con las prestaciones de servicios mecanizado y aseo.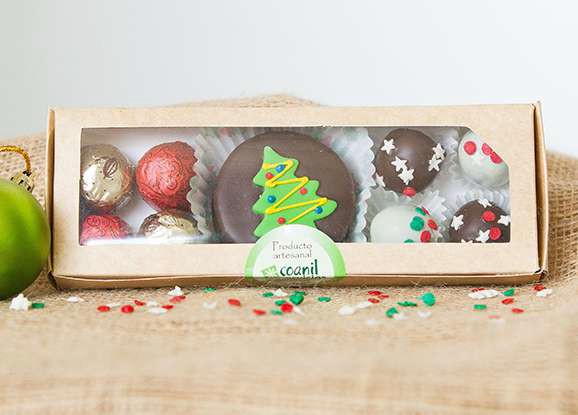 Desde el año 2007 hasta el 2012 se recibe apoyo de la organización NESsT (Grupo para la Autosustentación de las Organizaciones del Sector Civil), la cual entrega apoyo financiero anual de acuerdo a un Plan de Inversión y asistencia para el fortalecimiento institucional en las siguientes áreas:
1/ Proyecciones y Plan Estratégico
2/ Fortalecer la medición del impacto en la misión y en los valores
3/ Medición del retorno de la inversión, tanto en el campo financiero como social.
El 2009 se logra el cambio a un inmueble de mayores dimensiones, trasladándose a la comuna de Estación Central, lo que permitió contar con un mayor número de beneficiarios y diversificar aún más las actividades laborales y extralaborales.
Para dicho proceso, trabajamos desde un enfoque de formación por competencias, con el fin que los participantes puedan desenvolverse en distintos puestos laborales, accediendo a cualquier tipo de trabajo que sea de su interés.
Lo anteriormente mencionado, refleja a nivel país la disminución de gasto social (como salud, pensiones, entre otros), los índices de pobreza, el estigma social aumentando así la fuerza laboral, mejorando la participación y calidad de vida de las personas en situación de discapacidad que participan de nuestros programas.
ESTRATEGIAS
Nuestra estrategia de trabajo tiene dos etapas:
1/ Programa Laboral: Persigue una futura inserción laboral, desarrollando hábitos y competencias laborales a través de la formación por competencias y de la realización de diversas actividades productivas y prestación de servicios. (Proceso de formación).
2/ Participación laboral en empresas: Participación a través de prácticas y/o contratos de trabajo en puestos de trabajo competitivos, como resultado del desarrollo competencias laborales.
Programas extralaborales: Diversas estrategias grupales o individuales que persigue que los beneficiarios sorteen las problemáticas que les impiden lograr la independencia deseada, tanto en actividades de vida diaria como dentro de la comunidad. Además busca desarrollar los roles valorados por cada persona, a través de talleres educativos y asesorías profesionales. (Apresto Laboral, Afectividad y Sexualidad, Manejo Comunitario).
El proceso de inclusión laboral se lleva a cabo desde el modelo de empleo con apoyo (EcA) brindando los apoyos necesarios y seguimiento individualizado que permita a la persona desempeñarse satisfactoriamente en el puesto de trabajo, asegurando su mantención al transcurrir el tiempo, logrando así el nivel productivo esperado.
Después de los dos años se infiere que la persona puede desempeñarse en el ámbito laboral de forma independiente, egresando del programa de capacitación laboral en Coanil Servicios.