Autism Cafe Project: A Father's love and vision for his son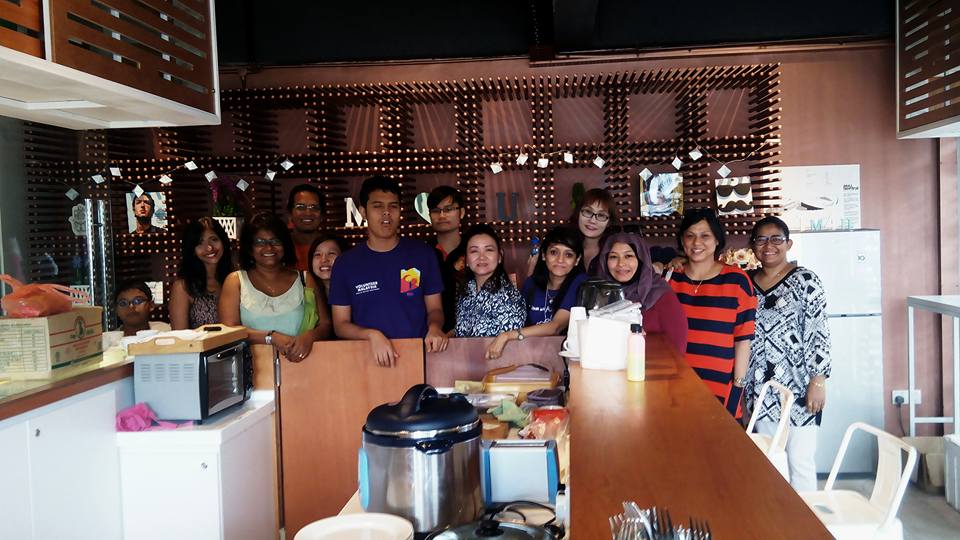 While Adli was pursuing the highs of his career as an executive director of Standard Chartered Foundation, he always had one thing at the back of his mind: his son, Luqman. While people around Adli assumed that Luqman was a late bloomer, Adli realised that something wasn't quite right with him. When his son was two-years-old, a doctor confirmed Adli's suspicions of the tell-tale signs: Luqman is autistic.
With six other able-bodied children, accepting Luqman with autism was very difficult for Adli even though his wife was supportive. "I went to another doctor, and another. I went to no less than 16 doctors because it was me who was in denial, battling myself. I couldn't accept it," Adli reflects. Now trying to secure another location for a café so he can take in more volunteers and employees, he took some time to sit down with Vulcan Post over coffee.
A Place Where You Don't Have To Apologise For Who You Are
Luqman's early childhood days saw Adli defending his son's behaviour time and time again. Adli confessed how he always had to apologise for Luqman's repetitive habits, often directed at angry individuals who did not understand nor recognise the symptoms of autism, only to be met with a guilty apology in return.
"I cannot blame others for not understanding, but yet it boils down to the fact that the knowledge wasn't there to begin with," Adli said. "I want the corporate and the public sector to know that it's not a disease. They can be productive and be a part of society. They shouldn't be shunned."
With Luqman as the catalyst, the Autism Café Project was founded as a social enterprise. Adli's vision for the Autism Café Project is that it will act as a safe space for individuals with autism to work in and to welcome the public who wants to understand the condition. While others just hire individuals with special needs, Adli openly encourages interested persons to visit the café and work with the current batch of six for an hour.
How Did It All Begin?
Frustrated at the lack of support and understanding from religious places, communities and education, Adli realised that sometimes, the best ways to get a word out and for children to learn is by moulding them both together.
Starting out in a small corner shop house, Adli worked with an OKU organisation in Subang Jaya. While the relationship didn't pan out according to plan, he took it as a blessing in disguise as he managed to obtain a bigger space in IM4U Sentral. Also supported by Khairy Jamaluddin whose own child is autistic, IM4U is the one of the biggest volunteer organisations in Malaysia.
Owing the café's recognition to Facebook and Instagram, Adli spearheads all communication through his previous corporate experience majoring in marketing and PR.
Getting Everything Together
Selling off his car amongst other things, it was tough in the beginning, admitted Adli. As IM4U Sentral doesn't operate over the weekend, Adli makes ends meet with weekend catering supplying events in both small and large capacities.
When asked about the café, he stated that it does not make profit at all at the moment. While the café may be reliant on donations for now, Adli's goal is to make the project as self-sustainable as possible in the long run, shying away from dependence on sponsorship and donation.
In his bid to continue to raise funds and also to enable those who are physically unable to work in the café have gainful employment, Adli recruits entire families—not just the individual with autism—into projects such as baking cookies and crafting t-shirts. This way, the families are also involved in helping the individuals with autism learn some productive skills.
When it comes to the café, instead of going through the conventional interview route for recruitment, Adli encourages parents to bring their child over to the café for a trial run on Wednesdays. Typically lasting two days for an hour each, parents are allowed to sit in, only for the first day.
Speaking from experience, he understands how protective parents can be, and how the child would seek approval from them before performing a task. A slight nod or the habit of making eye contact between both parties could deter the child's progress to be more independent.
The Little Details In Training
Inventory Replacement
While the main project is to have individuals with autism to work in the café, Adli aims for the café to accommodate its employees, not the other way around. For example, they use an air fryer to fry chicken as opposed to using a stove or use plastic cups instead of glasses.
Pairing According To Needs
With 6 people working at a time under the discreet observation of 4 senior supervisors, the café pairs individuals with high functioning autism with individuals with high needs. Working like yin and yang, the pairings complement each other through harmonisation of tasks.

One would wash a dish while the other would observe, informing the former that the dish is clean, for example. According to Adli, this strategy builds confidence.
As a quick summary, from his experience, this is what he's encountered with it comes to working with individuals across the autism spectrum.
High functioning autism: They behave normally, but having communication or sensory issues are highly likely. It differs from each child to another. For example, they have a café employee who strongly dislikes touching or hugging.
High-needs autism: They require more sensory stimulation and also need to move around more, but again it differs from person to person.
Mental Encouragement
Selling simple local food, there are no menus in the café. "It's a no-no," Adli chimed. Enforcing the practice to constantly communicate verbally, Adli is encouraging the employees to think by slowly pushing them to:
/ Meet and greet customers
/ Introduce themselves
/ Tally up the food bill in front of the customers
By taking away the use of calculators, the employees figure out different ways of solving a math problem. Even taking a sheet of paper to subtract or picking up a physical mound of cash to deduct on the spot can be extremely difficult for the employees as they are unable to conduct two tasks at once.
So the café offers an environment where the employees are able to practice important skills such as these.
A Small Step for You, A Bigger Step For Them
Overcome with emotion, Adli told us about an extremely reserved boy he worked with. Remembering him as a person who reacts strongly when touched, Adli was surprised to bump into him as he communicated with customers in the bakery section of Tesco, a huge contrast to his café induction just 4 months ago.
Adli's continuous motivation was to minimise the stress that comes with Luqman's dependence on his siblings in future. Through Adli's observations, Luqman's the happiest while washing dishes, smiling the widest as he goes along.
Stressing that nurturing a child with autism is a 24/7 affair, he hopes that his efforts would benefit the autistic community. The thought of people sending autistic children to orphanages or leaving them at home made Adli shake his head in sadness.
As for the bigger picture, there are big plans for the project to take on a life of its own with a branch in each state in Malaysia. Right now, they already have an arm that produces shirts in Perlis and another in Kuantan that produces cookies. Both of these locations were also started with the objective of providing gainful employment for individuals with autism.
Adli's wish now is for the government to implement education, to supply more teachers to improve the student-teacher ratio in special schools and for the public to educate and empower themselves through the direct engagement of his café. And it's projects like his that help to bring the individuals with autism forward and into conversation, until more is done to help support them and their families.