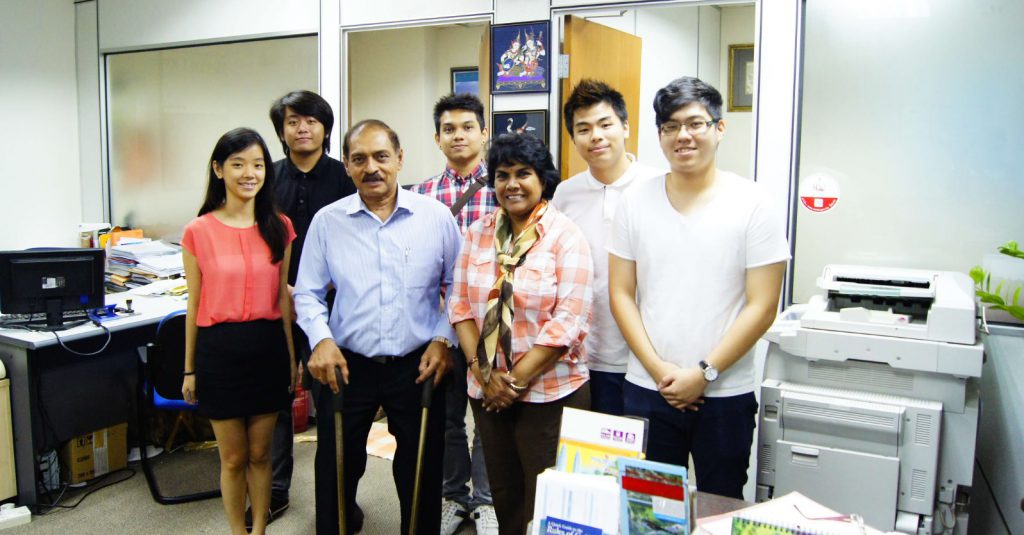 Antony Leopold is being diagnosed with poliomyelitis since young, a disease which causes paralysis in the limbs, muscles and nerves. Antony is currently in his 60s and he has already achieved his lifelong goal by opening his very own travel agency for the disabled. One of the reasons he got into the travel industry is because he loves to travel, it gives him an opportunity to meet people with diverse cultures and background. On the other hand, he also wants to make a difference in making travel possible for disable people just like him. It is a challenge for many people with physical disability to travel around, therefore it is even harder to imagine when it to comes to finding a travel agency that caters the needs of the disabled, especially in Malaysia. Long before Antony started his own travel agency, he was working with two companies for more than 20 years as their business partner. During that time, he already had the idea to build a travel business for the disabled however none of the companies that he was in bought in to the idea. Soon he realized that if he wants to get it done, he has to do it by himself so that was when he decided to start his own travel business.
Antony founded Ace Altair Travels Sdn Bhd back in year 2004, his business was sustained using common travel packages for the normal abled person. Besides that, he is also the president of Asia-Pacific Network for Accessible Tourism (APNAT). According to Antony, when he first started his business he has allocated RM25000 to Rm30000 per month on operation expenditure, utilities, employee salaries, licensure and etc. Currently, there is 6 employees working in the travel agency and everyone tends to wear more than one hat which means they get to do a little bit of everything from managing bookings to participating marketing activities. Antony advertise his travel business through participation in travel fairs and events such as MITA. Besides that, he has also paid to advertise in some expat magazines but the one that he finds most effective is through the word of mouth marketing. People trust other people and the experiences they have to report, which means that when they hear from friends or family members about a product or service, they are more likely to buy.
Antony believes that without desire or determination it is almost impossible for someone to achieve his goals or realize his dreams. According to him, every business is challenging and therefore it is important to take one step at a time and learn from others within the same industry especially when for young entrepreneurs who is just starting out. In his own opinion, he thinks that one of the important qualities as an entrepreneur is to have self-confidence as it allows the entrepreneur to dare to realize his idea and to create his place among the competitors. Besides that, he believes in caring and loving about what you do is very important in running a business as it is the main source of motivation.
He also thinks that an entrepreneur needs to be a self-starter, able to take actions on ideas instead of just dreaming about them day after day or depending on others to make decision for you. Antony believes that integrity is important in doing business as whether one is success in becoming an entrepreneur or not will be determined by the number of people who trust you, are willing to work for you, give you credit, lend you money, buy your products and services, and help you during difficult times. Last but not least, he encourages young entrepreneurs to face challenges as they come, and do not shy away from it as overcoming and persevering often bring a sense of satisfaction and can be very fulfilling.
Ace Altair Travels is a full-fledged travel agency that provides a dedicated travel package which known as Travel Assist specifically caters for the disabled, senior citizens and the elderly. Travel Assist includes unique transportation for the disabled such as special wheel-chair lifts, arrangement of suitable accommodation, identifying places of attractions and restaurants that are accessible, providing trained personnel to assist traveler with disability and many more. The travel agency offers a wide variety of tourist attractions and equipment for people with disabilities which include portable ramps for the wheel-chair user, ripple bed which is also known as air mattresses specially designed for pressure relief, vans equipped with wheelchair lifts and even coaches that can accommodate 30 passengers, including 6 wheel-chair users. Travel Assist provides tours locally and internationally, local attractions such as the Twin Towers, Historical Malacca, The National Monument, The Butterfly Park, Penang Hill, Cameron Highlands and many more. International tours include East Africa, specifically Tanzania. The places that is accessible for the disabled in Tanzania include the Tarangire National Park, Lake Manyara National Park and The Ngorongoro Crater rim. Ace Altair Travels is a huge part of Antony and his family's life. His loving wife Vimala Devi who wasn't in the travel industry previously, has supported him throughout the journey together for as long as he can remember.